---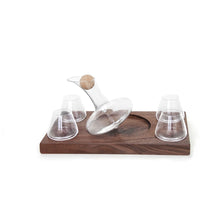 Set of four 5 oz Revolving Tad Glasses, a 375 mL Tad Decanter, and a wood base for when you want just a tad bit with someone to share.
The revolving motion aerates the liquid. Aeration, simply means exposing the liquid to air or giving it a chance to "breathe" before drinking it. The reaction between gases in the air and beverages changes the flavor.
  Custom engraving is available for the Walnut Finished Stand.
The Tad Decanter holds a half bottle of wine, but can be used for all different types of spirits and red wine.